238 Visitors a Week and No Sales! Young Entrepreneur Needs Help!
Options
Mark Topic as New

Mark Topic as Read

Float this Topic for Current User

Bookmark

Subscribe

Mute
Highlighted
Mark as New

Bookmark

Subscribe

Mute

Email to a Friend
Hey everyone,

I really need your help to solve this issue, I am a 16 year old entrepreneur and I don't know a ton about marketing, I think that I am doing okay but it just doesn't show!

I launched my website in early december on another host, after not recieving any sales from that around 25 days ago I moved my entire site to Shopify. I have been running Facebook ads, Google Ads, Instagram promotions, and yet nothing seems to work! Everything on my site is functional.

Please let me know if you have any ideas, I am open to anything! Thanks in advance!
- William

Attached below is my Dashboard view of the past week.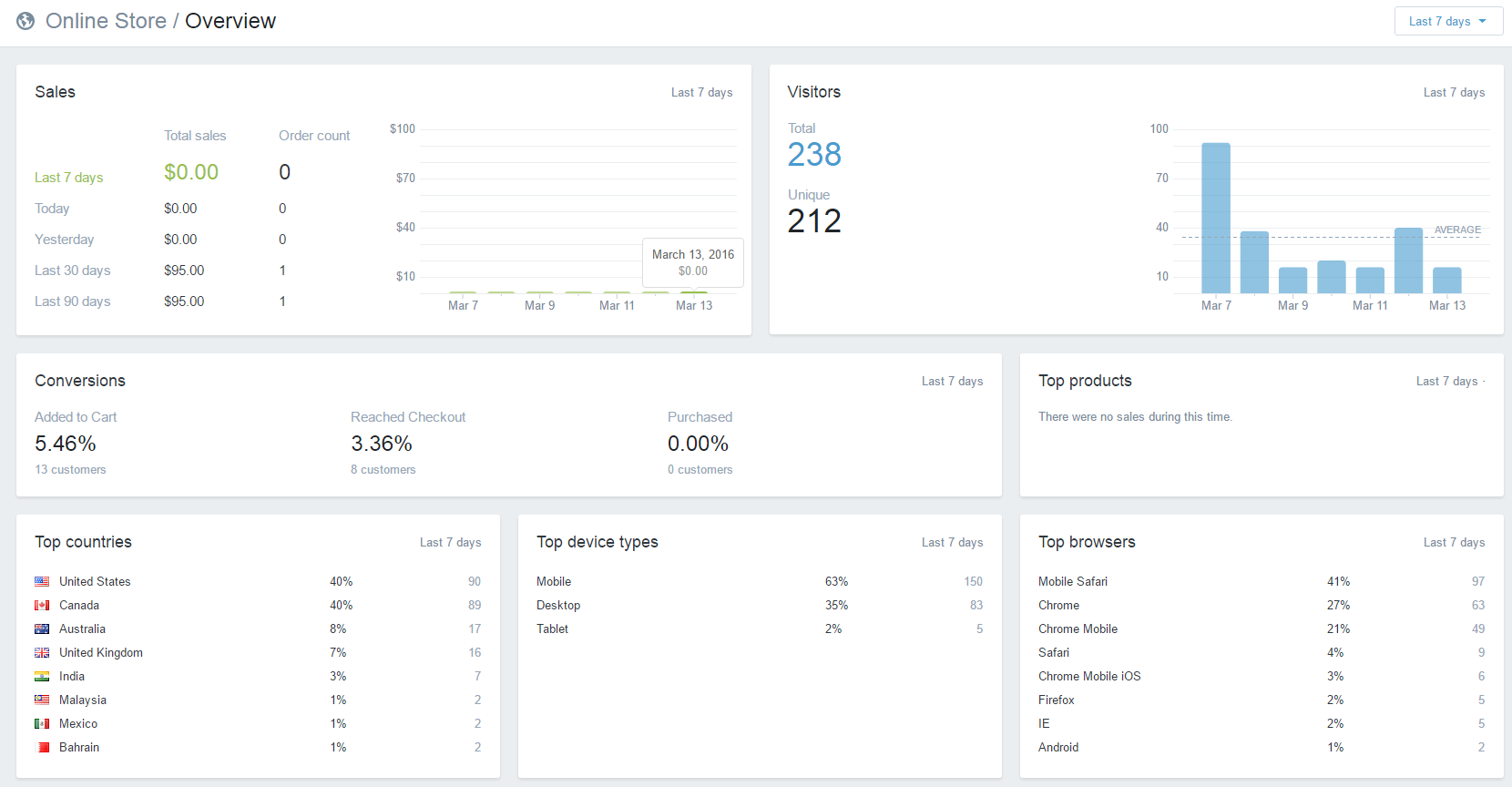 Take a look at our hand crafted wooden sunglasses, just simply visit: https://willted.com/
Mark as New

Bookmark

Subscribe

Mute

Email to a Friend
Hey Will,
Looked at your site and just a couple notes. Solid product but I feel like your site needs more content hopefully some organic traffic lowers your CPA, mabye have a post about how they are made and highlighting the quality? I dont know why I would buy yours over any others, show people that yours deserve thier money because they blow the competition out of the water.
Your copy is a little thin, upgrade your product info pages highlight the benifits over a crappy 5 dollar pair.
Cart abandonment emails, more prominent email capture for email marketing could be huge.
Also who would buy this? Who is your ideal client? and also I don't know where you live but up here in the great white north I am not in anyway thinking that much about sunglasses. Not exactly the right time of year.
Hope that helps, and let me know more about your business, your marketing, and what your think about how you could make your business better.
Beautiful and personal jewelry for moms momandbabylove.com
Highlighted
Mark as New

Bookmark

Subscribe

Mute

Email to a Friend
Hey Will,
When I was 16 I certainly wasn't running a business. Good for you!
One comment I have is the shipping. Yes you offer free shipping for orders above $40. Free shipping is a very powerful tool. But all the products on your homepage are $39.95 or $24.95 which don't qualify for free shipping. When I checked out with a pair of glasses for $39.95, I was hit with a $15 shipping fee. I feel psychologically its better to charge a few dollars more on the glasses and give free shipping. It's like i'm getting a deal (not having to pay for shipping). This could be why people are putting items in their shopping carts, but then leaving.
Get those people back with remarketing on Adwords and Facebook. You can send those visitors ads with the products they abandoned in the shopping carts. The ad could even include a small discount.
I dont know about you, but if I put something in a shopping cart, it means I like the product. Maybe I abandoned the shopping cart for various reasons. If I see an ad for that product a few days later with a coupon code, I'm going back and buying.
Good luck
Jamie
Highlighted
Mark as New

Bookmark

Subscribe

Mute

Email to a Friend
Highlighted
Mark as New

Bookmark

Subscribe

Mute

Email to a Friend
First off, kudos for starting so young. You've clearly got the drive and ambition it takes to make it - just remember it takes passion, drive, dedication and years of hard work to create an overnight success.
Few things which I'd recommend as constructive criticism.
Switch up your hero image (the first big image + text you see). "Welcome to our shop" - that's a waste of text. I already know I'm on your shop. And the image in the background, I literally didn't see the sunglasses until the third time I looked. Maybe something like "high quality wooden sunglasses at an afforable price" with an awesome pic of someone happy wearing one.
Reviews. You don't seem to have any. I'm scared about 0 stars. Maybe give some away to get reviews? Perhaps you have some offline reviews you feel comfortable adding? What did you kickstarter people say?
Try web push notifications. It's kinda like ad retargeting meets email marketing but much more afforable and powerful. Opt in rates are 75%+ and click through rates are 20%+. Also they can help a ton with abandoned carts. You can automatically set it to send a notification to anyone who abandoned your cart with something like "Finish your order and save 20% with promo code SAVE20". Check out https://aimtell.com for this, tons of these features are built in with it.
Good luck!