Decent Traffic but Low Sales
Options
Mark Topic as New

Mark Topic as Read

Float this Topic for Current User

Bookmark

Subscribe
Highlighted
Mark as New

Bookmark

Subscribe

Email to a Friend
Hello everybody, I opened my store about a month back and I have gotten a decent amount of traffic in that time, (around 600 people) but haven't made any sales. I have an idea about what the problem is and that may be our product descriptions might be poorly made. Other than that I can't think of anything else that would be hindering my sales.
Here is the link to my store; https://thalooke.com/
Any advice would be greatly appreciated! Thank you very much!
Mark as New

Bookmark

Subscribe

Email to a Friend
appfreaker_com
Shopify Partner
Highlighted
Mark as New

Bookmark

Subscribe

Email to a Friend
Mark119
Explorer
Hey I think the layout of your site is pretty good but I think that your site is overall not super trustworthy you don't have a clear way to contact you by email or buy a phone number which would be pretty nice.

also I know you have an about us but you're about us doesn't really give any identifiable information about you like I have no idea who I'm ordering from but I don't know your name I don't know your office location I don't know anything about you at all which makes me not really trust you I would beef up your about us page like include a picture about yourself have address make it look like a real person is running the sites I think that is probably your biggest issue.

Also another thing I noticed is that on your site you don't make the buy button always visible on mobile on desktop it's probably less of an issue but on mobile you want to have that buy button within a thumbs reach I created an app that can help you with that: https://apps.shopify.com/better-sticky-checkout-button-increase-your-sales
see the screenshot below, would you buy from that screenshot?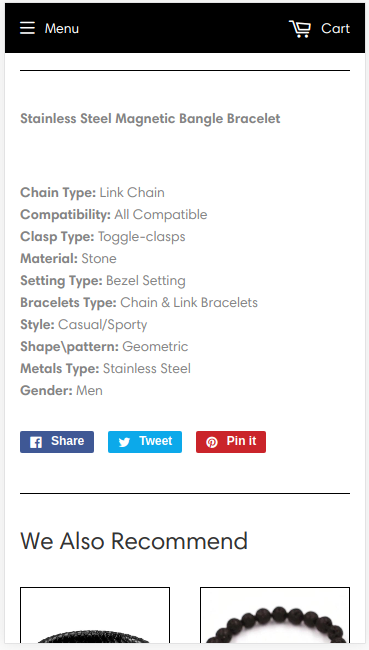 Also I noticed that most of your products don't have any reviews at all and your descriptions are very short since you're selling sunglasses and glasses I want to know how they would fit on my face and what other people think so if you could show maybe Dimensions where I could measure the glasses so that I could see how that would fit on my face I think that would be really beneficial because I'm not going to pay any amount of money on sunglasses if I'm not sure they're going to fit but overall good job on the site I think with a little bit of tweaking you'll be able to convert those visitors into buyers.
Highlighted
Mark as New

Bookmark

Subscribe

Email to a Friend
Highlighted
Mark as New

Bookmark

Subscribe

Email to a Friend
Highlighted
Mark as New

Bookmark

Subscribe

Email to a Friend
Matt_Round
Tourist
Hey,
First of all your store looks great. But if you're getting all that traffic an no sales it means your targeting the wrong people. It's really really hard to sell mass market products like sunglasses, watches etc. You need to be really good at marketing to build desire so people buy.
My advice:
Are you ready? You're not going to like it. Here goes.
Concentrate on selling your blue blocking sunglasses and forget everything else. You'll find it much easier to know who you're targeting.
To begin with post in facebook groups, reddit and forums with members who use computers all day like programmers. Or target people who like software like f.flux (software designed to help prevent tried eyes).
Before you start, list all the benefits of the sunglasses and not their features. This is your marketing message e.g. "Are your eyes tired after a long day at the computer?".
Spend a maximum of a day on this. If you get negative responses and no sales - don't continue! Find another product that solves a problem and try that. Keep trying different products until you find a hit.
Only use paid advertising once you've got 100 ish sales because then you'll know who to target. Just create a lookalike audience and erradicate the guess work.
When you find a product people actually want, people will buy even when your website isn't perfect. Plus, by selling initally in forums you'll start to build trust there. It reduces the pressure on your website.
Read this now: 5 Mistakes New Store Owners Make That Lose Them Sales. You should find it helpful.
Hope this helps,
Matt
Are you struggling to make sales? Then read this: https://www.vysors.com/feedme/article/increase-conversions/