Is there anything that you can learn from our store? - Talking Balloons
Options
Mark Topic as New

Mark Topic as Read

Float this Topic for Current User

Bookmark

Subscribe
Highlighted
Mark as New

Bookmark

Subscribe

Email to a Friend
A bit of backround: We have been using Shopify for around three months, and have come up against pretty much everything that might cause difficulty to new shop owners. Hopefully this will be useful to some of you who are getting started. For the more established - if you know of better ways to do any of this - please let us know!

In short, you will be able to learn something from our journey.. even if it is what not to do!
UK delivery
Postage in the UK is pretty complex. With many of our products being low margin, it is not viable to have flat shipping rates. We bit the bullet and paid for our subscription annually. This granted us access to Carrier Calculated Shipping, and works out cheaper over the course of a year.
Hardly any UK based/serving carriers are available. We were aware of this, and intended to use an app called Parcelify to cater to our needs. This app enabled me to set up different rates for different postcodes/products etc. It has been perfect so far!
Please note that this app was free when we began using it. This is no longer the case.

Custom Products
The backbone of our product line is printing bespoke latex balloons. As we have no way of knowing beforehand what a customer wants, we needed a method of obtaining that information. The functionality of Shopify's forms was not sufficient as customers could not upload the logos or photos that they wanted to be printed on balloons. We eventually used an app called Acerill - Product Forms. Here is an example of it in action.
Another paid app.

Collections
We sell thousands of different products, so having 25 displayed per page simply did not cut it as everything past the 2nd page will probably never get looked at. We modified our theme (Venture) a little in order to display more products per page (250).
We have also planned our menus by taking an overview of all of the products we offer, and categorising them in a semi-coherant way. Which leads me to our next adventure..

Product Tags
My first idea was to tag each product with as many relevant tags as possible. This was my attempt to cover all bases for what potential customers could be searching for. After a while, there were so many different tags that finding what you wanted using the "Filter By" funtion involved pages of scrolling! I have since whittled things down to basics like "birthday", "unicorn", "Disney" etc.
The end result is that finding what you want using menus, the search function or a filter works a lot better!

SEO
We were up against the clock when we first started - which meant copying and pasting descriptions from the old website. We did not spend any time sorting URLs, meta descriptions or page titles. If a potential customer is using a search engine to look for a product that you offer... having a weak game in this area will hurt organic results a lot! I've been spending all of my time lately sorting this, and putting links to other relevant products in the descriptions.

Related products
Preferences are extremely subjective. A product that one customer adores could nigh induce vomit in another customer. We modified Venture a little more so that it pulls 4 products from the relevant collection, and displays them at the bottom of the product page. If the design that a customer is looking at is not perfect for them, there is (hopefully) a higher chance that they will spot something to suit them in the Additional products section.
Despite all of the above, plus a generous Adwords spend; we have a terrifyingly low conversion rate - 0.39%
What would you do differently to convert more sales?
What puts you off buying from us? (Assuming you were actually looking for our products)
Highlighted
Mark as New

Bookmark

Subscribe

Email to a Friend
Mark119
Explorer
Hey really great job on your site I really like your logo and the color scheme I think it just looks really awesome. I do have some point of feedback that I think may help you.

I think you should add reviews on your website if you don't have any reviews people may go to a different website to search for reviews for your products and then they may leave your site and never come back. you should make it as easy as possible for your customer to buy and then includes having reviews and detailed descriptions I've noticed that a lot of your products don't have any description at all so if there isn't a description or any reviews I'm definitely not going to buy it.

Also since you are a brand new store that I haven't bought anything from before I want to know that you are trustworthy so I would consider adding some trust badges to your store.

Also on your product page I noticed that there isn't an always visible buy button. The buy button is the most important button on your website and you should make sure that it's always within a thumbs reach for your customer.
Take a look at the screenshot below and imagine that you are a customer ready to buy especially on mobile. Once you get through your description you would have to scroll alllll theee wayy back up... (see what I did there?) just click on the buy button so that you could buy. That is making things much harder than they need to be for your customer, which could hurt conversions. I actually make an app that can help with that. https://apps.shopify.com/better-sticky-checkout-button-increase-your-sales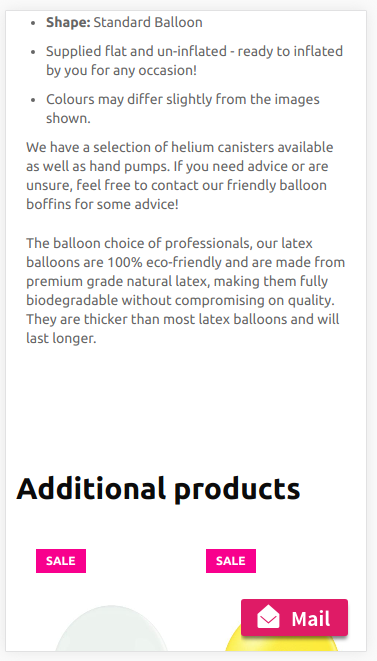 Also have you ever considered adding an FAQ to your site. One question that I was actually curious about is what does a 12in balloon actually mean. Does 12in mean that it's going to be inflated to 12in in diameter once I blow it up or does that mean that it will have a circumference of 12 in or does that mean that it is 12 in when it's deflated? something like that would be really interesting and useful to know about. I think that you could consider having an FAQ or you could even consider having a Blog which I think would help Drive some more organic traffic to your store and could help with SEO.

But honestly I think your looks really really good. I think with a few minor tweaks you will be really successful.


Highlighted
Mark as New

Bookmark

Subscribe

Email to a Friend