Natural cosmetics store-what would you change or improve?
Options
Mark Topic as New

Mark Topic as Read

Float this Topic for Current User

Bookmark

Subscribe

Mute
Highlighted
Mark as New

Bookmark

Subscribe

Mute

Email to a Friend
Hi,
I would be thankful for any suggestions. What would you change or improve in the below store? The store is like 2 months old.
Highlighted
Mark as New

Bookmark

Subscribe

Mute

Email to a Friend
Hey nice job on launching your store overall it looks really good I do have a few pieces of feedback though.

The first thing I noticed when I logged on to your store is that there was not one but two email pop-ups I don't know how many times you need to alert the user to collect their email but I think that it is too many see the screenshot below for what I saw, I think you should only have one email pop up if you are going to collect emails.

Also I think you should change up your title on your homepage you say free gift when you spend over $15 but I actually don't know what kind of things that you sell I think you should be more specific and showing people what kind of things your store has so they don't have to figure it out you want to make things as easy as possible for the customer.

On your title you could consider having something that says "we sell Cosmetics to help make you beautiful" or something like that which would make people know what you sell because me knowing that you have a free gift doesn't really help me much if I don't know what I'm buying.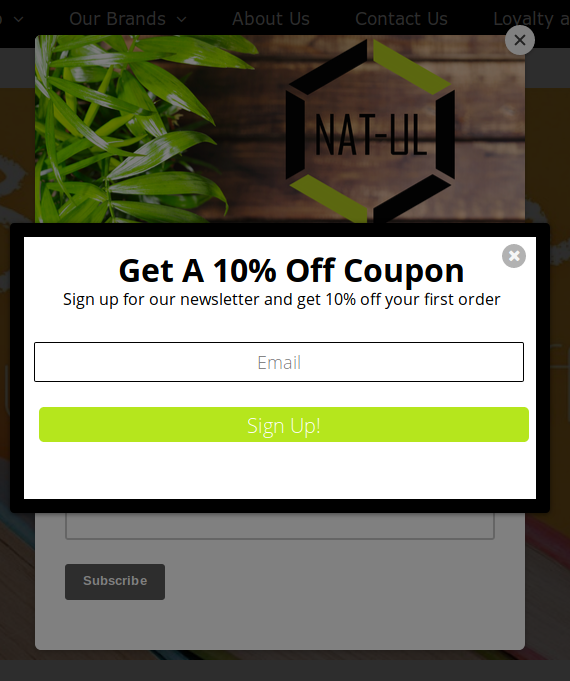 Also I noticed that you don't have your buy button always visible take a look at the screenshot below and imagine that you're a customer trying to buy so in this picture there are three different main links that your customer could click on and none of them are a buy button you have a coupon that your customer could get a guide for natural oils and another link to earn rewards. Now all of these are great but they take away from what you really want your customer to do. Your main goal for your customer is to get them to buy and that should be the easiest thing possible for them to do. Right now they would have to close two different windows just to be able to scroll up to find the buy button to click on that you need to make sure that the buy button is visible at all times when they are on a product page. I created an app that can help you with that. https://apps.shopify.com/better-sticky-checkout-button-increase-your-sales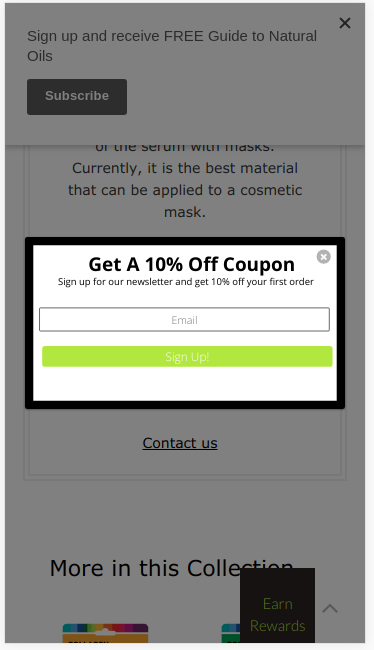 also your about us page is a little vague I think I think it would be good if you said more specific information about you whenever I buy something I want to know that I'm working with an actual person it would be great if you had maybe a picture about you or about your team with some smiling faces on it that would be really great also I think it would be great if you had an email address or a phone number that people could contact you at because right now after about 30 seconds of searching I couldn't find any easy way to contact you other than filling out that long form if I can't contact you I'm not going to buy from you.

By the way I'm working on an email your customers better you can check it out at https://www.answrly.com/

But overall I think that your store is really close to being awesome I think it was just a little bit of tweaking you can really make an awesome store that a ton of people want to buy from.
Highlighted
Mark as New

Bookmark

Subscribe

Mute

Email to a Friend
Hi, There!
My name is Jade, I am with the Social Care Team at Shopify.
Mark provided some excellent feedback to guide you in the right direction. When it comes to creating an About Us page, Mark makes a great point in that your customers want to have a relationship with a real human being. We have a blog post called The Untapped Potential of About Us Pages (And How to Write Your Own) that I recommend reading and taking ideas to improve your current page. I would also refrain from using italics on your page.
I clicked on your social media icons and noticed that you haven't posted on social media for a while. To make the process less daunting, you may want to consider creating a content marketing calendar so that you can plan your posts in advance. This will also remove the feeling that posting online is a chore.
Now that you've been operating for two months, do you have any specific goals in mind for the next few months leading into the holidays?
Jade | Social Care