Options
Mark Topic as New

Mark Topic as Read

Float this Topic for Current User

Bookmark

Subscribe
Highlighted
Mark as New

Bookmark

Subscribe

Email to a Friend
You're looking for a tie and/or mens accessories and you're lead to Ocean Boulevard for the first time. What would prevent you from purchasing?
Elevate The Status Quo
Mark as New

Bookmark

Subscribe

Email to a Friend
Alex23
Shopify Staff
Hey, there!
I'm Alex, with the Shopify team!
That's a fantastic looking site - can't say in all honesty that I'm seeing anything off-putting; your photography is great, your About Us and FAQ pages are welcoming and informative, and your prices are quite reasonable. There's only one or two things I might mention, though they're fairly nitpicky:
It's great to see that you've got your contact email in several spots in FAQ, that's fantastic! It might also help to have a standalone contact page in your footer with this information - you could include this email address, along with a contact form, and any other contact information that you're interested in providing. It inspires trust in your customer base when they can see at a glance that you're easy to reach out to with questions or issues.
In your About Us page, there's an inconsistent spelling; it's nothing I'd have usually noted, but it does kind of jump out as the same page mentions an unparalleled attention to detail:
Hope that's helped you out! And just to check in, I see that you'd posted a little while back about experiencing a dry spell and gotten some replies there; have you seen a recovery in your sales since? Please do feel free to let me know, and you can always give us a call or start a live chat at any time. We're open 24/7 for your convenience and always happy to assist!
Cheers,
Alex | Shopify
Highlighted
Mark as New

Bookmark

Subscribe

Email to a Friend
Highlighted
Mark as New

Bookmark

Subscribe

Email to a Friend
Mark119
Explorer
Hey nice job on the site I think that the layout looks really good there are a few things that you could consider that might help

first of all I would probably take out the Bible quote now I think that the Bible quote is great but you need to think about your Market are you planning to only sell to people who believe in God but what if a Buddhist wants to buy it from you and they don't want to buy from you because they are offended by your quote now I think it's a good quote but you wouldn't take away from your site if you removed it you just want to make sure you don't offend anyone.

Also I think it would be good if you had some testimonials on your sites I want to be able to trust you and without testimonials I'm not going to trust you as much.

also I don't really see any easy way that I can contact you maybe I can contact you but I couldn't figure it out in 2 seconds so therefore it's too hard if I can't figure out how to contact you in 2 seconds I'm not going to trust you so I'm not going to buy from you so I want to make it really obvious that there is an email I can contact or a phone number or something because if I don't know who I'm buying from I'm definitely not going to buy from you.

One more thing is that you don't have very many reviews on your products which is an issue you should make sure that you can have some reviews on your products because if you don't I probably wouldn't buy from you.

Also one more thing your buy button isn't always visible especially when you scroll down on mobile you have your cart and your search and I can change the currency really easily on mobile but you don't have a way to buy really easily which makes it difficult for the customer. Take a look at the screenshot below: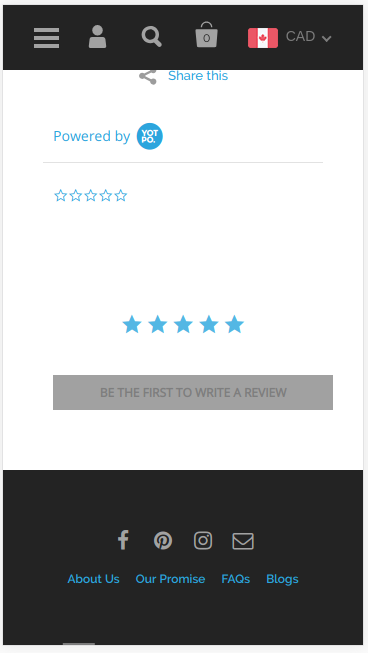 how can you buy this product? You would have to scroll all the way back up to add to the cart which makes things more difficult for your customer. I created an app that can help you with that: https://apps.shopify.com/better-sticky-checkout-button-increase-your-sales

Also I don't see an address about where I can return my stuff too maybe there is an obvious way for me to return things but I don't see it you need to make it very clear what your return policy is especially since its clothes I know you're selling mostly ties so you don't have to worry about things not fitting but it is possible that some of your ties or pocket squares or something are going to be of lower quality or something so people may want to return it.

As I write this I just found your Boulevard boys page which is actually awesome I think that's really great but I had no idea that this page even existed until I was clicking around on the site more you should make this page more visible because if I see this it makes me trust you a whole lot more this page is actually awesome but the fact that I couldn't find it is a problem I really like your meet the boys page that was fantastic
Highlighted
Mark as New

Bookmark

Subscribe

Email to a Friend