English results in French Search
Mark as New

Bookmark

Subscribe

Mute
Hi,

Was wondering if someone would know what's going on here. We've been searching for a while and can't fix this on Google search. We just want to be relevant and for some reasons, google doesn't index it right.

The search keyword term is in French language and the search result is our english page. We've set the Language settings properly... Not sure what's going on.

Any ideas?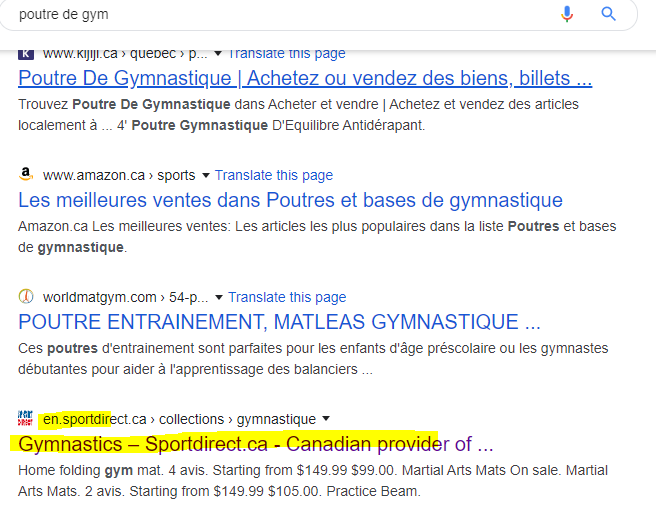 Mark as New

Bookmark

Subscribe

Mute
Hey VDSport,

I empathize! I've set up hreflang before and it can be fiddly. I've usually preferred to do it via sitemap.xml, which is much stricter and easier to validate. With Shopify, that's not an option, though.

Note that Google's advice on hreflang says:
Put your <link> tags near the top of the <head> element. At minimum, the <link> tags must be inside a well-formed <head> section, or before any items that might cause the <head> to be closed prematurely, such as <p> or a tracking pixel. If in doubt, paste code from your rendered page into an HTML validator to ensure that the links are inside the <head> element.
I see that your hreflang tags are at the bottom of your <head> section. That should work, but it's possible that's the root cause. Note that the W3 validator Google links to thinks your existing hreflang meta tags are not inside the head tag: validation report.

Are you able to move them to the top of your <head> section instead?
Code 402 Inc
- Ecommerce Consulting in Kitchener, Ontario, Canada
Mark as New

Bookmark

Subscribe

Mute
Hi Code,
I just did the update to move it up to our Head tag.
If it's just that, I can't believe it... We searched on this for weeks!
Thanks