Feedback - Adwords help Please
Mark as New

Bookmark

Subscribe

Mute

Email to a Friend
Please let me know what you think about my store!
I spend alot of money every month on google adwords (up to $1000) and still not getting the traffic / orders. I tried Facebook ads too with no results. What am I missing here or doing wrong?
Thank you
Steph
Jolly Grub
Mark as New

Bookmark

Subscribe

Mute

Email to a Friend
When it comes to advertising there is allot of knowledge required. As you have not provided any info, it is impossible to make any effective suggestions.
If your not getting any orders than there are some reasons.
1) Incorrect setup of the ad campaign, be it text, display, shopping, etc...
So you need to make sure that the traffic that you are targeting is relevant, for example if you target generic search terms, the buy intent will be very low.
2) The ad you created does not reflect the visitors intent, this means a missmatch between the ad text and or the landing page.
3) Badly priced products
4) etc...
As there are many possibilities, I can't list them all as it will not be helpful. So what you need to do is if you can't hire an advertising manager, is to start reading up on how to advertise. Read lots of articles, follow guides, maybe even do some schooling etc...
Hope it helps.
Mark as New

Bookmark

Subscribe

Mute

Email to a Friend
Hey Stephanie,
What a yummy online store you have 😄
Many hygienes were already suggested by Emmanuel. I like to add few more.
So if you're not getting any orders or sales from your paid campaigns, you can use these audiences for "Retargeting."
You can retarget your website visitors with:
Google display ads
Facebook
Google display ads : Good alternative for google search AdWords.
All you need is to create an audience as per your requirement and target them, with the relevant offering. In your case since people already visited your website, the brand recall will work.

Step-by-step guide: https://www.verticalrail.com/kb/google-remarketing-tag-shopify/
Good read: https://www.shopify.in/blog/6019860-how-to-use-google-remarketing-for-ecommerce
Facebook Ads:
Step by step guide: https://www.shopify.in/blog/118363973-the-quick-and-easy-way-to-put-your-facebook-ads-on-autopilot
https://www.facebook.com/help/179245922507048
Good read: https://www.shopify.in/guides/make-your-first-ecommerce-sale/facebook-ads
https://blog.boldcommerce.com/a-step-by-step-guide-to-facebook-retargeting-for-ecommerce
The most economical way to retarget your visitors. All you need to do is to get started with iZooto shopify app.
Step-by-Step guide: https://www.izooto.com/web-push-notification-shopify
Good read: https://get.izooto.com/shopping-cart-abandonment
https://www.izooto.com/ecommerce-retargeting-using-web-push-notifications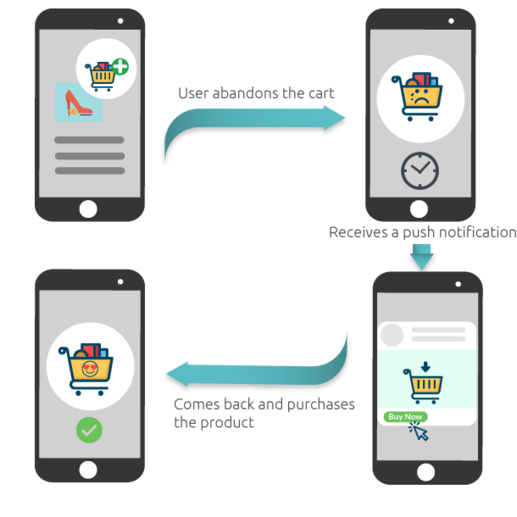 Get 14 days FREE access of Browser Push Notifications at apps.shopify.com/izooto-web-push
Mark as New

Bookmark

Subscribe

Mute

Email to a Friend
Hey Stephanie! Cool store. Wish I'd seen this before Easter last weekend 😉
You've asked a good question about digital marketing here. Wanted to offer my $0.02...
In our experience working withn ecommerce companies, the key is avoid wasting significant expenditure. One way to do so is with efficient structure.
Before you actually start running Adwords campaigns, it's essential to consider any and all factors that your company can exploit and build from within the market to differentiate.
A few foundational questions worth asking are:
What are your three undeniable goals?
What are your best selling product lines?
How does seasonality affect their performance?
What is your past history of SEM performance?
How has the competitive landscape shifted since your company launched?
How much budget do you have to compete with other businesses in your vertical?
We wrote a long post about this called "The ROI of Structure," and it may be useful for ya: https://bit.ly/2JxA2zJ
Good luck to ya!
CEO of Metric Digital @ www.metricdigital.com