Metafields deprecated message
Solved
Mark as New

Bookmark

Subscribe

Mute
I still get this message about deprecation



This is the only place where it's called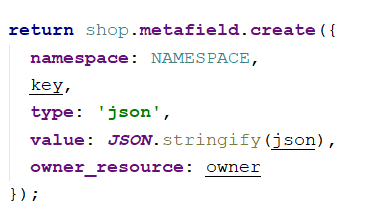 there is no valueType, or anything else, how can i get more info about this?

I using:
shopify-api-node
API VER:
2022-07
Accepted Solution (1)
Mark as New

Bookmark

Subscribe

Mute
This is an accepted solution.
Hello Folks,
I took a closer look at this issue and noticed a couple things.
1) If you update to `2022-04` you should no longer see these deprecation warnings.
2) If you are unable to update at this time, when making requests using a REST Api before `2022-04`, you'll need to explicitly request the fields you require. Otherwise `value_type` is included in the response and the request is marked as deprecated. You can request explicit fields by appending `fields=id,namespace,etc` to a request.
If you're experiencing the deprecation warning still after the above suggestions please send me a message with your app/partner organization name and I can take a closer look.
Thanks,
Tyler